With the recent demand for soft feel golf balls that deliver on tour or distance, many new models are coming up. Hence, recently, the Callaway brand took heed to the call.
The Callaway Golf ERC Soft Triple Track golf balls are the most distant shells with the best feel. At least that's as per the company claims. The golf balls also boast of an excellent spin and control for pro golfers.
Furthermore, the shell retails as an ideal pick for male golfers. However, some users praise its low compression befitting female players. Should you include this golf ball in your collection? Let's discuss more below: –
We hope you love the products we recommend! We only products that we thoroughly investigate and believe is a real value for you. Sports Send may collect a share of sales or other compensation from the links on this page. It is at no extra cost for you.
The Callaway Brand
The Callaway golf brand is a household name in the US. It makes durable, high-end golf balls with the best designs for best performance.  They vary in spin, dimple count, texture, inner core, and control, to suit its broad customer base.
The Series 
The Callaway Golf ERC Soft Triple Track Series comprises of 3-piece dual-core shells. It is the first series on 15 years to use the founder's initials. Indeed, the model has a soft feel, straight flight, and low compression. Plus, it is quite forgiving to both male and female golfers of all skill levels. Besides, the shell delivers the longest distance for such a feeling.
Features 
Below is a summary of Callaway Golf ERC Soft Triple Track golf ball's specifications: –
| Feature | Specs |
| --- | --- |
| Dimensions | 7.5 x 5 x 2 inches |
| Weight | 1.00 Pounds |
| Cover | Hybrid |
| Construction | 3-piece |
| Dimple Count | 322 |
| Ideal For | Men |
| Pattern | HEX Aerodynamics |
| Color | White, Yellow |
| Warranty | 2 Years |
Construction and Spin
​
The Callaway Golf ERC Soft Triple Track golf balls have a 3-piece construction.
>
A Hybrid Cover
The golf ball's outer cover is a mix of the ionomer and urethane materials. Urethane is often in premium golf balls that aim at achieving the best control for the player. Also, it gives the ball a soft feel while keeping it rigid enough to deliver on speed. In contrast, ionomer does the same role but is rife with cheaper shells. Hence, this hybrid craft aims at creating golf balls that attract in-between buyers.
Note that, Callaway guarantees that their hybrid shells perform best with robustness. Hence, expect an impressive straight spin. Still, not as high as the display of premium urethane golf balls.
A Dual Core
The Callaway Golf ERC Soft Triple Track golf balls feature a soft core with a graphene infusion. This way, the shell launches and maintains much control with minimal sidespins. Hence, the dual-core maximizes the compression power, which results in high swing speeds. In turn, the golf balls propel high and farthest.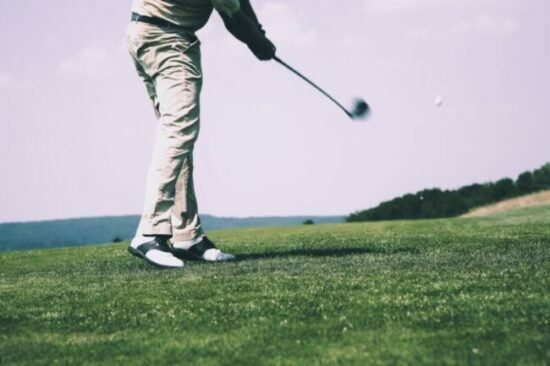 Triple Track Technology
Do you struggle to get the perfect alignment on landing? The Callaway Golf ERC Soft Triple Track golf balls have a unique feature to address this. On the center of the cover are two thin blue lines separated by a thick red line. It is the Triple Track Technology.
The Triple Track Technology gets its inspiration from Vernier Visual Acuity. That is, it aims at providing a ball alignment that is easy to spot.
The lines' juxtaposition assists the brain to align the ball in one line. Still, if you have no issues with alignment, turn the golf ball to the blank side, and you are good to go. That way, you will not feel distracted by the lines.
Even so, it will only work when you are on the green or the tee. These lines may point in the wrong direction when you are at the fairway. Again, persons with ADHD may feel overwhelmed by this subconscious alignment.
Forgiveness
If you struggle with wayward shots, this golf ball cuts down on the sidespin. This way, you can achieve a far throw in a direct flight.
Color
The golf ball is available in either white or yellow varieties. These shades complement the Triple Track Technology. Hence, the golfers can choose the shells that give them the best visibility and alignment.
Warranty
The Callaway Golf ERC Soft Triple Track shells retail with a two-year warranty. This warranty is higher than the average one year warranty by similar brands.  Hence, it's a robust pick that will serve the golfer for the longest practice session.
Summary of Features 
The Callaway Golf ERC golf balls are soft, hybrid shells with a triple track design to make it more visible. These balls target the average male golfers who seek to perfect their style.
Comparison with the Chromax M5 Metallic High Visibility Yellow Golf Balls, 2-Tubes of 3, NEW 2018
The Chromax M5 Metallic golf ball is a 2-piece shell with a 75 compression count. This golf ball has an extensive dimple pattern for distance. It also features a metallic reflective cover for better sight.
Both the Callaway Golf ERC and the Chromax M5 Metallic golf balls are high visibility balls. Their added features make them easy to notice on the green. Also, they both have a soft feel and straight flight, hence forgiving. But, the Chromax M5 is much more suitable for seniors whose eyesight is not as it was when they started playing.
Verdict 
The Callaway Golf ERC Soft Triple Track golf balls are soft and forgiving. They retail as men's golf balls. But, their design and aesthetic appeal to the female golfer with slow swings. Also, its added feature for visibility comes in handing when putting.
What We Like 
The golf balls use Triple Track Technology to improve its alignment. For a mid-price shell, this feature is a plus to the golfers. But, it works best with putts since the player's eyes will be straight above the ball.
What We Don't Like 
There are soft golf balls with either high or low compression. Still, as per Callaway's policy, there is no mention of the golf ball's compression score. The compression score helps to assess the feel of the golf balls. Hence, this exclusion is a bother to pro golfers who would want to compare golf balls during fitting.
Conclusion 
The Callaway Golf ERC Soft Triple Track golf balls are worth their price. That is a soft feel, far-reach, forgiveness, and an extra feature for alignment. Moreover, these shells make an excellent choice for a golfer who wants to perfect his putting.