Balega vs Feetures – which is superior? People ask me this question all the time. Today is your lucky day. Let us dig deeper and compare the two brands, shall we?
But first things first; why do you need a good quality running socks?
Whether you are a professional athlete or an amateur, comfort is vital. Many people tend to overlook socks when choosing their apparels, but socks are equally important when it comes to your comfort and efficiency.
When running, hiking, walking or carrying out regular duties; you need ultimate support and optimum efficiency. For this reason, your choice of socks can be a significant contributor or detractor in your performance. Choosing the right pair of socks can prevent plantar fasciitis, unnecessary blisters, and reduced performance.
Balega and Feetures are two committed brands that produce quality and stylish running socks globally.
Balega vs Feetures Main Differences
Feetures is a family owned company that has been in business for many years. They provide running socks for both men and women. They have also created everyday socks using their running socks technology, which makes them extremely comfortable for daily use.
Balega also offers a wide variety of running socks of different designs, colors, and cuts. This ensures a wide range to choose from according to your taste and preference. They have running socks for kids, men, and women.
Feetures Socks production is done in Vietnam while Balega Socks production is done in South Africa.
Quality Assurance and guarantee
Balega socks are individually inspected and tested by quality inspectors before they hit the market. Each pair contains a sticker with details of the person who examined it. This ensures that their clients get top quality products each time.
Feetures also offers excellent quality running socks for its users over the years. However, their quality testing and control is not as public although they do an equally thorough job.
Balega socks come with one-year warranty. Within this period, you can contact the customer care for a replacement in case your socks have defects or wear out prematurely. This warranty, however, only covers manufacturing defects.
On the other hand, Feetures offers a lifetime guarantee. If you are dissatisfied or unhappy with any of their products, you can make a claim for refund or replacement for the same.
The Technology Used
Feetures owns patent target compression, which provides optimal foot support and comfort for the user. Balega boasts of Heel to toe cushion, which offers excellent comfort and durability.
They both have broad and elastic heels to provide arch support and prevent socks from slipping off the heel.
Feetures socks have a seamless toe technology, which protects toes from blisters and also arch compression to ensure even blood flow to the feet during activity.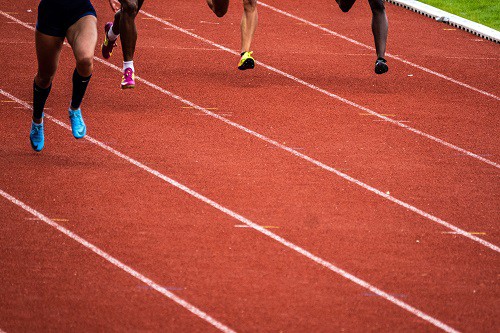 Socks Variety
Feetures offers three cushion levels for running socks namely:
Ultra-Light Socks: The cushion is extra thin with highly breathable fabric, which keeps your feet dry in all conditions.

Light Cushion socks: These have a high-density cushion that protects your feet from high impacts. They are best suited for someone who prefers less bulky socks.

Max Cushion socks: Mostly suited for users who prefer extra cushioning, they are perfect for cushioning the feet against impacts while running.
Belaga Socks have a wider variety as below:
Hidden Running Socks: highly effective socks that are lightweight with plush cushion and sweat-wicking fabric.

Enduro Running Socks: These are specially fitted for feet contours with medium cushion and V-tech arch support for maximum protection over long periods of use.

Ultralight Running socks: Perfectly fitting compression socks that make you forget you are wearing socks.

Blister Resisting Running Socks: Made of drynamix fabric, which provides excellent protection against blistering.

Silver Running Socks: Compression socks, which have antibacterial properties that make them odorless.
Zulu Running Socks: Offer high performance and high impact protection.
Kids Running Socks: Highly comfortable and perfect fit for the young runners.
Performance
Balega Socks have High tech performance yarns, which make them light and highly effective especially when running for long hours.
Feetures socks have ventilation panels, which prevents your feet from sweating. To enhance this, they use an iwick fabric on the socks to keep the feet super dry.  
Feetures socks have an anatomical fit. This ensures perfect snuggly fit and negligible friction to give you optimal performance.
Balega socks are better at keeping your feet dry for longer when compared to the feetures socks whose users complain of feet soaking in sweat after long runs. Balega socks have of synthetic drynamix material that wicks sweat away hence keeping feet dry.
Market Cost
Balega Socks are relatively cheaper when compared to Feetures socks. Ideally, especially for the professional athletes, the cost of socks should not hinder you from purchasing a great pair of socks because, in the long run, they protect your feet from injuries associated with the high-impact activities.
In Conclusion
Investing in quality running socks is priceless because the comfort they provide is crucial to your overall performance. When shopping for running socks, buy perfectly fitting socks made from breathable and quick drying fabrics. Cotton is an inferior choice mainly because of the sweat retention, which causes friction and eventual blistering of feet.  
In the battle of Balega vs Feetures, which is your favorite? Both brands have adopted the latest technology to ensure qualities that will keep your feet protected, as you achieve better performance. You get value for your money in either of them. The two brands also offer quality and great comfort for their products.