A bike helmet is a crucial accessory for a cyclist. It prevents getting fatal head injuries during a crash. Also, the shell shields bikers from the elements while keeping them comfortable for the best performance on their trails. As expected, cyclists should wear appropriate bike helmets for their riding style and skill level to get the best value for their money. 
So, this guide will differentiate helmets designed for mountain bikes from those for road biking. Let's get to it!
Overview: Road vs. Mountain Biking
The Trail
Mountain biking takes place off the road. It involves vigorous tackles on sharp and steep climbs, twists, and turns. MTB riders face vast obstacles like dirt, vegetation, roots, rocks, and protruding tree branches. Moreover, mountain bikes are often heavy and use wider tires to increase resistance against uneven trails. These obstacles slow down and force the mountain bike rider to use more physical effort.
In contrast, road biking is done on smooth and obstacle-free paved roads. These are well-marked, solid, high-traction grounds with consistent and mild climbs, bends, and descents. Besides, the riders use lightweight road bikes with lots of aerodynamic traits. That way, they can race effortlessly at top speeds. 
Still, unlike mountain biking, road bikers share the road with pedestrians, other cyclists, and motor vehicles. They have to observe the applicable traffic signs and practice defensive riding to avoid collisions with other road users.
The Dangers
First, let's understand that mountain biking and road biking present varying risks and challenges to cyclists. Indeed, mountain biking is viewed as an inherently dangerous sport because: – 
The rider comes face to face with surface hazards while tackling the irregular trails.

The rider may collide with moving or stationary objects along the trail

Other trails users may be negligent, leading to a collision

There are subjective dangers associated with doing jumps and dare-devil stunts by the mountain biker

Exposure to wildlife hazards, including insect bites, poisonous plants, and wild animals

Extreme weather conditions
In contrast, road biking is a less risky undertaking. Still, the riders must guard themselves against the following risks: – 
Potholes – Potholes on a poorly maintained road

T-junctions – Collisions between cyclists and motorists emerging from the main junctions, poor visibility at these junctions, 

Roundabouts – Emerging motorists who do not give way to cyclists at roundabouts

Filtering & Overtaking – Impatient road users who overtake carelessly, slow-moving heavy traffic, 

Stationary Objects/Vehicles – Open doors of parked vehicles
A road biker faces more perils associated with sharing the road with fellow riders and motorcyclists. Hence, a road bike helmet is not the only line of defense for these riders. Road cyclists must be assertive on the road. In addition, other road users must be mindful of cyclists and pedestrians.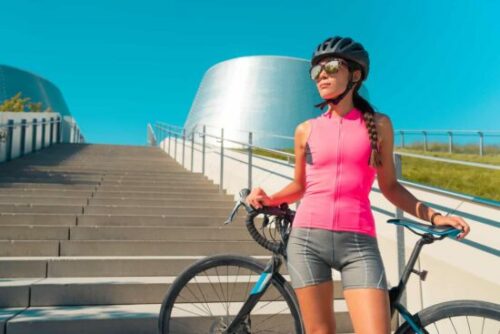 Other Differences
Safety Traits
Both mountain bike helmets and road bike helmets must meet the same basic safety standards in the region. These include the Consumer Product Safety Commission (CPSC) standards in the US and European Standards EN1078 in Europe. The two standards check for the helmet's resilience in peak linear accelerations (PLA). Hence, they do not certify the helmets as safe in collisions involving rotational or angular accelerations.
Many recreational street riders use road bike helmets with basic safety certification. On the contrary, mountain bike helmets add other safety technologies and certifications to cater to the intended MTB style and the bikers' skill level. Such additional technologies include the MIPS slip-plane that guards the rider against brain damage due to rotational forces. 
There is also a stricter ASTM F1952  or ASTM- DH safety standard,  specific for downhill mountain bike helmets. Here, the helmets undergo additional tests to confirm their resilience and ability to protect the face and head from injury.
Shell Weight & Design
Mountain bike helmets have a heavier ergonomic design for comfort, high performance, and optimal protection. Note that these retail as full-face, open-face, or half-face shells to suit specific challenges the rider faces. Still, most MTB riders prefer full-face helmets that protect the head, neck, and facial features. These helmets are compatible with such accessories as camera mounts and dirt goggles for a fun adventure. Plus, they complement the other MTB gear in keeping the riders safe. The other safety gears include neck braces, MTB shorts, mouth guards, protective clothing, gloves, and wrist support.
In contrast, road bike helmets aim for a comfortable ride. Hence, they feature more aerodynamic traits, and a lightweight structure with more and bigger vents. As expected, most road bike helmets opt for either a half-face or open-face design.
Coverage & Visor
Mountain bike helmets have more coverage at the lower back of the head. This style adds another protective cushion to the MTB riders. Secondly, MTB helmets have a built-in or detachable visor to protect the face and eyes from protruding tree branches, flying objects, and direct sun glare.
Indeed, some mountain bike trails are in narrow stretches with thick vegetation. And the rider could be ascending or descending in the same direction as the sun, hence struggling to see the path ahead due to direct sun glare.
In contrast, road bikers use moderately flat and wide roads. The only obstructions are other road users or stationary objects along the way. In turn, road bike helmets have limited coverage and omit the visor to keep their weight in check.
Smaller & Fewer Vents vs. Bigger & More Vents
Note that mountain bike riders use less crowded trails with many bends and uneven terrain. Hence, they maintain a moderate speed with manageable wind resistance. In turn, the riders use MTB helmets with fewer vents at strategic positions around the head. This style and moisture-wicking paddings keep the head dry and well-ventilated.  
On the contrary, road cyclists can race at top speeds. Hence, they need road bike helmets with broader and more vents. These spacious pores channel the wind into and out of the shells without causing too much drag. Plus, this design keeps the helmets as lightweight as possible.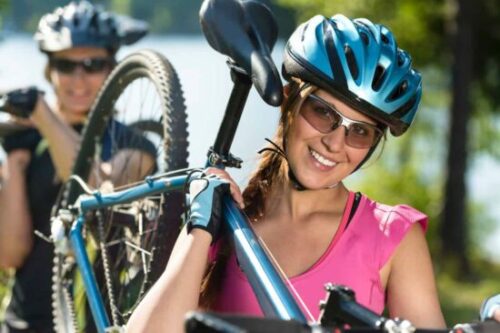 People Also Ask:           
Can I use a road bike helmet on a mountain bike?
Yes. However, note that wearing a safety helmet when riding is better than not wearing one at all. Also, know that each helmet has safety, comfort, and performance attributes suitable for their intended type of riding. Hence, ultimately, choosing between a road bike helmet and a mountain bike helmet depends on the risk you anticipate on your next ride.
Secondly, if you want a helmet with the least weight on your head and still optimize safety, pick a road bike helmet for mountain biking. This practice is common with XC MTB riders who prefer road bike helmets over mountain bikes. The road bike helmets feel lightweight. Plus, they keep the riders cool as they tackle forest paths, smooth roads, paved roads, and single paths.
Finally, suppose you are a beginner mountain bike rider. In that case, you can start with a road bike helmet as you assess the risks along the trail to determine the most suitable MTB helmet for you, especially since MTB helmets retail at a higher price than road bike helmets. Delaying your purchase will save you lots of money until you understand the risks ahead.
Are there special helmets for mountain biking?
Yes. Mountain bikers use special helmets for extra safety. These helmets use the latest safety technology, robust materials, and stylish designs to suit the masses. Here are some of the unique attributes of specialized mountain bike helmets: –
Aerodynamic design that ensures a lightweight feel regardless of the extended coverage

In-built or detachable and adjustable visor guarding against sun glare, flying objects, and tree branches

Reflective webbing for better visibility when riding in low-light conditions

Durable, easy-to-use retention systems that riders can secure with one hand as they move.

MTB helmets are compatible with vast accessories. These include more cheek pads for a custom fit, a GoPro camera mount, goggles, lights, a detachable chin bar, and add-on options.

Wider chin straps with adjustable retention systems, achieving a snug fit. These straps also use convenient one-hand-operated lock systems for fast adjustments. 
Our Verdict
A mountain bike helmet offers the essential safety features you find in a road bike helmet. Still, it has additional attributes to caution the rider from the extra dangers anticipated in mountain biking. In addition, a mountain bike helmet has a heavier and stiffer shell, with more coverage at the back of the head. In contrast, road bike helmets are lightweight, have more and bigger vents, and have limited coverage all around.
Conclusion
So which of the two bike helmets has superior traits? The choice between a road bike helmet and a mountain bike helmet is a matter of personal preference. Opt for the road bike helmet if you value more ventilation, a compact design, and an open face. But, if you want additional protection at the chin and back of the head or are prone to head injuries from rotational forces, opt for the mountain bike helmet.