A lot of innovation has changed the traditional shoe's make and design that greatly benefitted and continue to benefit us.
Among these is the rising of models meant to make the simplest activity of walking better.
Brands like Gelert have dominated the market for their products' quality and performance.
Hence, we have prepared a Gelert Walking Shoes review to let you in on the benefits you can get from buying one.
Is it worth the purchase? Can it be used for walks in the parks as far as camping and hikes?
Let's look at the Gelert Men's Horizon Mid Walking Boots to find out.
Gelert Walking Shoes Review
Gelert has been supplying outdoor enthusiasts and campers with high-quality, reasonably priced camping gear and accessories since 1975.
Among these are walking shoes with features that can weather different conditions and settings.
If you are contemplating buying the Gelert Men's Horizon Mid Walking Boots, below is valuable information you can use.
Who Are These Shoes For? 
The Gelert Men's Horizon Mid Walking Boots is designed for people who love adventures.
While it makes great gear for simply walking in the park or outdoors, it offers more.
Its extra durability and support make it perfect for trekking, hiking, and camping trips.
Its breathability can keep your feet cool and dry even in the hottest weather.
On top of that, its waterproof feature makes it an excellent addition for trips in rainy, snowy, and muddy settings.
Its aesthetic and overall design also works for those who like a convenient, easy to wear, and secure pair.
Meanwhile, the pair's excellent cushioning system is ideal for those mending foot pain and discomfort.
What's Included?
If you are to purchase the Gelert Men's Horizon Mid Walking Boots, here's what you can expect in the package:
Gelert Walking Shoes 

Sturdy Box With Tissue Paper
Overview of the Features
With the wide variety of applications, you may be curious about its specifications.
Understanding its build, make, and extra features will tell you if this product delivers quality.
So without further ado, here's a breakdown of the Gelert Men's Horizon Mid Walking Boots.
Gelert walking shoes use rubber soles to provide superior traction on wet and slippery areas.
You can use them in muddy and sloppy conditions without worrying about penetration.
Moreover, acids, chemicals, and even cement can't penetrate rubber's tough barrier, which adds to your safety.
In other words, this footwear may be worn in all seasons, making them great multi-weather gear.
This material also prevents slipping and accidents when walking on snow-covered or wet pavements.
And lastly, this contributes to the pair's cost-effectiveness and functionality.
The Gelert walking shoes' waterproof feature gives your feet protection.
Wet feet are more prone to blisters than dry feet. Wet skin softens and is more vulnerable to abrasions and friction when walking or running.
With waterproof shoes, your feet will remain dry and comfortable.
EVA midsoles provide support by withstanding all the stresses of walking or running.
It works regardless of whether the stress came from the terrain, the wearer's weight, or other elements.
EVA insoles keep your shoes long-lasting. It can stay intact even in the lowest temperatures.
This midsole cushion also has waterproof, stress-crack resistance, and UV-radiation resistant properties.
Furthermore, users love this because it is environmentally friendly.
Gelert walking shoes have a breathable mesh that enhances performance and optimal comfort for all users.
It lets air flow freely through the soles of the feet to give a cozy and dry running experience for the wearer.
It also doesn't add too much to the shoes' overall weight.
This material is also inexpensive, contributing to the shoes' reasonable price.
Gelert Men's Horizon Mid Walking Boots uses lace-up fastening to allow users to secure and adjust it to their preferred fit.
There are different ways to fix laces, and each one gives a unique fit.
Users can take advantage of this versatility to secure their shoes any way they like.
The Gelert Men's Horizon Mid Walking Boots has a padded ankle.
The manufacturer added this because the brand knows cushioning effectively reduces the stress on the joints and tissues.
Blisters, inflammation, and pain are all prevented. It also promotes better posture while walking.
PROS:
Facilitates better strides when walking

Supports feet during high impact activities

Can be worn in different environmental settings

Good value for money

Comfortable and enhances posture
CON: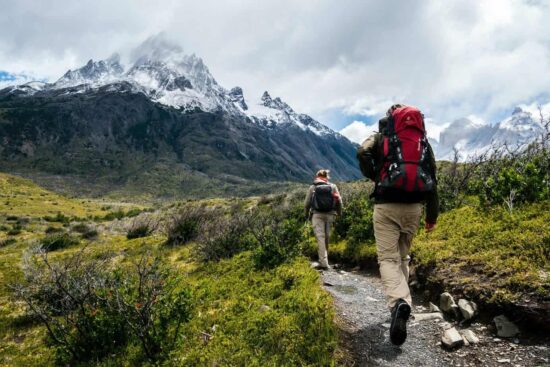 How To Get the Most Out of Your Horizon Mid Walking Boots
Like with any other pair, the best way to maximize your experience with the Gelert Men's Horizon Mid Walking Boots is to break it in.
Breaking in allows you to be more comfortable as your feet become more familiar with them.
Here are some ways to do it:
Wear your walking shoes around the house in place of slippers.

Make sure to wear thick socks to avoid too much friction that can lead to bunions and blisters.

Schedule a 20-minute walk around the block for a few days.

Use wooden shoe stretchers to break in the shoes if walking isn't enough. There are options for plastic shoe stretchers that can be used for specific areas. These prove to be effective in accommodating different feet structures.
Alternative
While the Gelert Men's Horizon Mid Walking Boots are excellent walking shoes, some may not be comfortable with the structure.
The Adidas Men's Terrex Trailmaker Hiking Walking Shoes are an excellent alternative if you prefer softer and lower-cut walking shoes.
It's supportive, comfortable, and lightweight, but not as waterproof as the Gelert's.
Are These Walking Boots Worth Purchasing?
After a thorough Gelert Walking Shoes review, we can say that the Gelert Men's Horizon Mid Walking Boots is worth the purchase.
The pair is affordable, yet it delivers excellent comfort, quality, and convenience.
The breathability, versatility, and protection it offers give excellent value too.
The Gelert Men's Horizon Mid Walking Boots is perfect for walking around the park and other physical activities.